THE ART OF PARASITE - PART 4
AMANDA PENLEY
In this interview series, Gabby Kere introduces some of the most talented members of the Bong-hive who channelled their passion and fandom for Parasite into artworks so pleasing to the eye that they demand space on your bedroom wall. Read the previous parts published on the Curzon Blog.
Rising, descending and rising again. This is the circle of life in the eyes of multiple award winner director Bong Joon-ho. The self-proclaimed staircase-enthusiast, whose work is heavily inspired by the infamous Bates house from Hitchcock's Psycho, infected many visual artists with his unusual obsession. His beloved stair motif became the central figure of his latest block-buster Parasite, as well as the focal point on the many wonderful works of alternative poster makers. One of them is Amanda Penley, the next hero in my interview series.
Los Angeles based illustrator, designer and animator Amanda Penley is a self-described cinefile who's happy place is "a good cold theatre, with buttery popcorn and a great indie film." She recalls her earliest artistic memories how as a child she could express herself better by drawing than speaking. I talked to Amanda about her personal journey, from dreaming about becoming a veterinarian to how her love for movies shaped her professional path and helped to find her true calling.
​
"I'm from Marietta, Georgia - growing up in a big town with small town appeal was idyllic. Growing up, movies and television was a huge part of me getting into art, and it still is. I remember watching Avatar the Last Airbender premiere on my little tv in my room on a Monday night, my room was pitch black except for the light from the tv and I was enamoured. I always had a collection of movies, and book, and drawing characters from them - it set my imagination wild. Never idle, I started taking art a lot more seriously when I went to Savannah College of Art and Design and decided to study illustration with an emphasis in design and motion."
Avatar the Last Airbender
Right after her return to Los Angeles last year Penley didn't pay much attention to what was on in cinemas until she heard a movie recommendation from a friend. "I immediately ran to the movie theatre, watched it and I'm not kidding, I was floored. Just meticulous filmmaking, the score by Jun Jae-il - pulling the baroque melodies, the acting, the colors, everything. Bong Joon-Ho is a smart filmmaker. Everything has purpose, from choosing the scene of the house, to the way they shoot the Kim family. I've seen the film three times now, and probably the best experience was seeing it with Jung Jae-il composing in the background at a screening with Bong introducing the film. By the way he is as adorable as you think he is! Every viewing I had a different experience, noticed more things, and again, I am certain Bong Joon-ho is a genius."
​
I totally agree! I think what lifted Parasite to masterpiece heights is the fact that it allows you to unpack new, exciting surprises every time you watch it. This is why I find Amanda's interpretation just as thought provoking as the movie itself. The focal point of her image is a mysterious optical illusion of interlocking stairs, used here as a metaphor of the never-ending landscape of social divide and hierarchy. My first thought was that in contrast with other alternative Parasite fan arts, Amanda's, simplistic design doesn't give away much about the story, still it's very eye-catching. As I examined her image closer, my attention was drawn to the deep gap yawning between the two subjects and triggered a nightmarish feeling in me: Something must be hiding down there in the dark! If you saw the movie you will also appreciate this smartly placed easter egg. But the gap is not just a subtle hint behind a major plot twist. It is also used by Amanda, as an evocative symbol to translate the spirit of Parasite into a single, elegantly crafted image.
It must be very difficult to capture the essence of a film that became famous for its complex, multi layered structure and abstract elements. Amanda shared with me where the first sparks of ideas came from: "Yeah, so I have followed a lot of alternative movie poster sites and I was seeing some beautiful posters, but one of things I hate about film posters sometimes is the poster is just a pretty image reflected of the movie. To me a great poster makes you think. I had read an article early January about how Bong called this movie his "stair" movie.... and that just set off a light. I did a quick sketch, but honestly when I get an idea, I just go straight to creation."
​
Many artists were inspired by the stairs that play a vital role in embodying the metaphor of class-struggles. A lot of alternative posters I saw before place the stairs in the centre of the image as if this object were the main character. But what I find so captivating about Amanda's work is that she put a very clever twist on it. Literally.
​
"Yes it was very important!! I wanted to express the sentiment by displaying Escher's never-ending stairs that loop, capturing the theme that the poorer families climbing to success will always be a temporary illusion. Stairway of penrose of capitalism."
​
Although Amanda's style has a taste of modern minimalism she finds inspiration in many classic artists' work. "I firstly got into color through Van Gogh's series where he painted the Roulin family. I have a 1930's print of Armand Roulin on a beautiful yellow hanging above my bed. Modern, I really admire so many artists, but currently I'm obsessed with Eva Eskelinen, Shane Dering, Lisk Feng, Rebekka Dunlap, Sanji Seo, and Kim Jung Youn to name a few."
​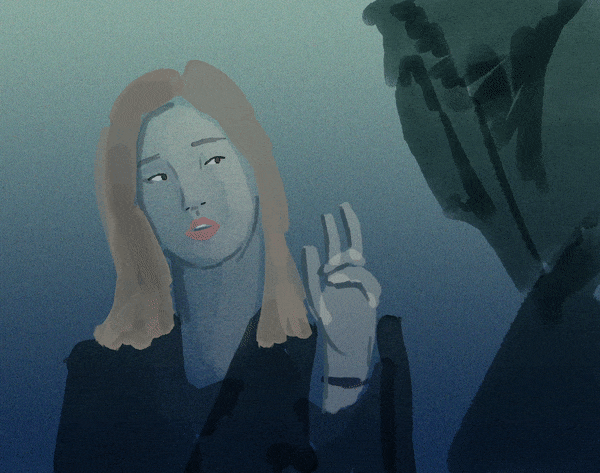 About our present days alternative poster scene she says "It's been pretty minimal vector style I feel like, but now in the past couple of years illustration has really exploded again." and adds with an optimistic tone "It's a good time to be an illustrator."
​
I asked her about her opinion on what makes a movie poster great and I total agree with her: "A great poster is able to synthesize and provide commentary on the film itself. I don't want to see a pretty basic photograph copy of what's already been done. The great posters make you look closely, examine, and should make you think."
​
You must check out Amanda's illustrations and animations (@penleydesigns, www.penleydesigns.com/fav-films)